2018 Trends in promotional gifting

Rather than wait until the end of the year to reveal trends in promotional gifting, we thought we'd dig out the stats so as to help you make the right decision for your corporate branding strategy now. Here are the top trends we are seeing so far this year.
Wellness
Health and wellness is a massively growing category for us here at Creative Brands. From encouraging your team to bring in more healthy lunches to watching that step counter, we're pleased to be able to range some epic health and wellness kit - and we're able to print your name and logo on each and every item. A few of our favourites: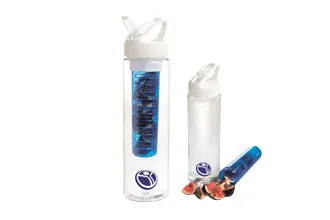 We all know we should drink more water! Made from BPA-free plastic, take this bottle to work or give it to our best clients - it allows you to infuse flavours and add a twist to your daily water intake. Fresh mint, lemongrass, tea or fresh fruit, this reusable bottle is a hot ticket item for any office or promo event.
Technology
Who doesn't love tech kit? With more millenials moving into the workspace, putting your brand on high-quality, high-tech items ensures you are bang on trend. Do your research but seriously consider tech kit for your end-of-year client gifts. These come recommended:
Everyday
We all want to move away from clutter and we're finding more and more, that the best promotional gifts are often the most useful. Plus, when it's an item that is used daily, your brand remains top of mind. Bingo. Here are a few of our suggestions: