Frequently Asked Questions
1. Delivery
1.1 When can I expect my order
Branded orders Take 7 - 10 working days in production, this is the estimated time for completion of your job at the JHB branding houses.
Please note we count day 1 as the day that you Approve your layout, not the day payment is made.
Unbranded orders will take between 2 and 5 working days, depending on where we are delivering to.
All items on our website have the estimated delivery date attached to them: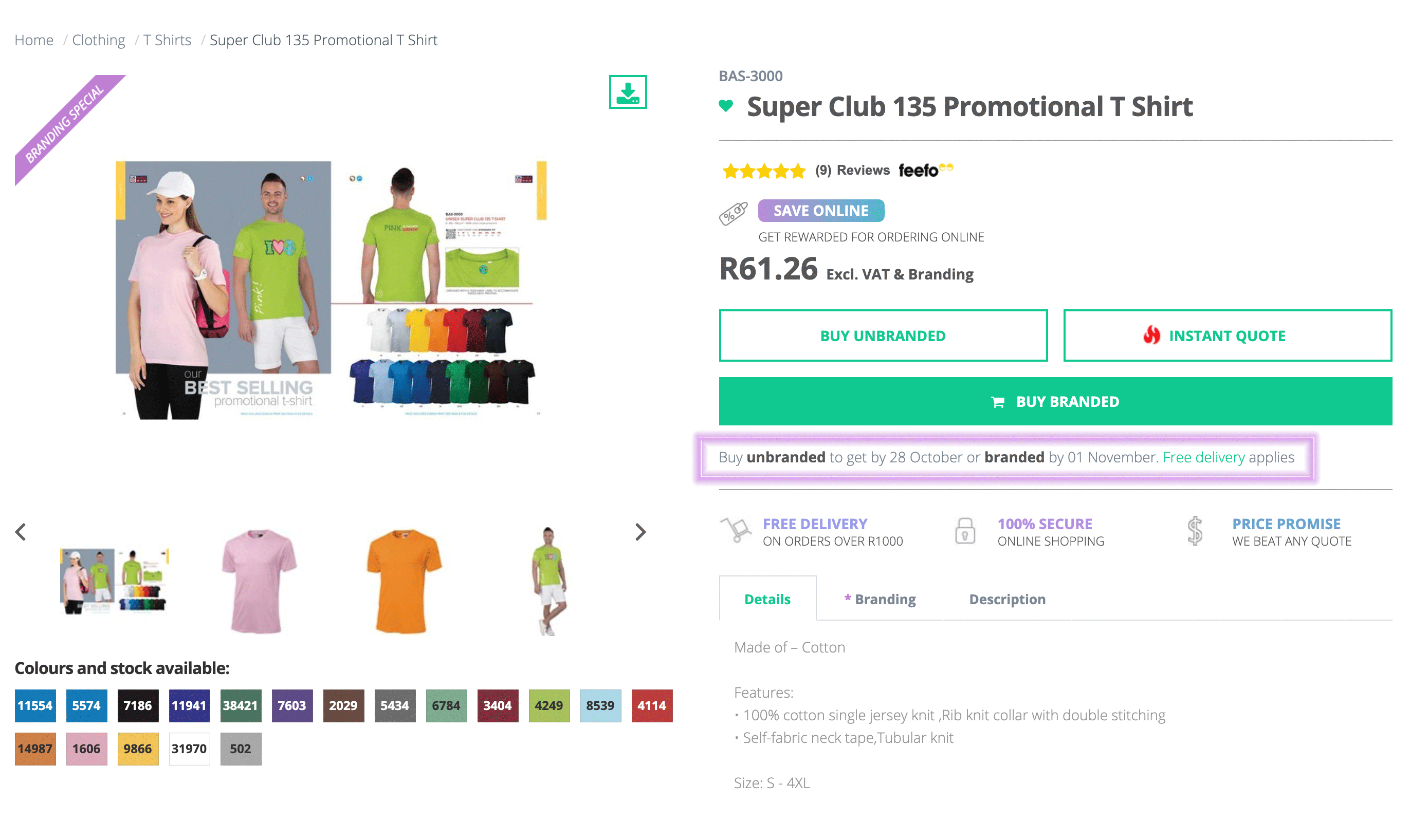 1.2 What do you charge for delivery?
Delivery for orders over R1000 ex vat are free of charge.
Orders Under R1000 ex vat will be charged R150 ex Vat
Costs are based on an Eco, 2 to 3 delivery lead time, from when your order is collected.
2. Branding explained
2.1 Can you explain the diffrent types for branding to me?
Click here to learn more about branding
Not all items can be branded the same way. Each item has limitation, for this reason, we have branding guidelines linked to each product.
2.2 What will it cost to brand my items?
The cost of branding is not a set price. This is worked out depending on the quantity of items being branded, how many colours are in the branding and what branding technique is needed to brand that particular item. In Same cases, the size of the branding will also affect the price.
2.3 Why are cost higher on smaller quantities when branding?
A setup fee is charged on all branded orders, be it for 1 unit or 1000 units. On Smaller quantities, this set up fee will have a greater impact on the unit price, rather than on larger orders. So the more you order, the more you save.
2.4 Is a set up fee charged every time we order?
Yes, as the set up fee charged is for the preparation of the screens, pads, etching plates and so on as well as the chemicals used.
It also covers the cost of the calibration of the machines required to complete the branding of your products, which needs to be set each time, and on each item.
2.5 What are set up fees?
A setup fee is the cost of gathering, collecting and organising the materials required to brand your items.
It's the preparation of the screens, pads, etching plates and so on as well as the chemicals used.
It also covers the cost of the calibration of the machines required to complete the branding of your products.
2.6 If I am paying a set up fee, why am I charged for a redraw?
The artwork design fee we charge is the cost of redrawing your logo into Vector format. It is the time required by our designers to get your logo into a workable format.
2.7 Can I bring you items to brand?
Unfortunately this is not a service we offer. We only brand on items that we supply.
We have tried and tested all branding options on our items, we know what works to get you the best results.
2.8 How must I supply my artwork?
All artwork needs to be supplied in vector format. Ai or Coral Draw files, where the fonts have been converted to curves will work
If you do not have vector files, we can assist you with having your artwork redrawn, this is a free service, but does ad up to 48hours to the standard lead time
3. General Q 'n A
3.1 How do I go about getting a quote?
Online - Instant quote button
Call us
Email us
3.2 Who can I speak to about your products?
Live chat - for instant answers to your questions
Call us
Pop us an email, either to your assigned account manager or to hello@creativebrands.co.za
3.3 Where are we situated?
3.4 Do prices include Vat?
All prices shown on the website are exclusive of VAT.
Vat is charged at the standard 15%
3.5 How do I become a reseller?
To see if you qualify to become a reseller - please complete and submit the application form here
3.6 Do you have an MOQ?
As far as possible, we try to make our products available to everyone. We want to help you, no matter how small your order may be. It is important to us. For this reason, MOQ on quantity or order value for the majority of our orders.
Any items that do have an MOQ will be marked as such.
3.7 Where can I view products?
All products can be viewed at our various showrooms in Cape Town and Johannesburg. Please keep in mind, not all products are housed under one roof. Let us know which product you are wanting to see, and we will advise which showroom to visit.
4. Payments
4.1 How Can I pay for my order?
Check out online, pay via the instant EFT system, or by Credit Card. You can also select to do a manual EFT from your Cart
A direct bank to bank transfer is also possible, all our banking details can be found on the last page of the quote. Please note the 5% discount will not apply to your order should you make use of the direct EFT payment method
4.2 Can I pay a deposit?
You are more than welcome to pay a 50% deposit to get the ball rolling on your branded order, however, the online discount only applies to orders paid in full.
The Balance of this order will need to be paid before we dispatch the order to you.
Please keep in mind, we only release stock once the full order has been settled.
4.3 How do I cancel my order?
Unbranded orders can be cancelled within 48 hours of placing, with no cost to you. If you cancel after this time period, you may be liable for the transport costs to have the order returned to the warehouse.
Branded orders can only be cancelled before approving layouts.
We can also not place the order hold or make changes to the artwork, as penalties may be incured as a result.
5. Samples
5.1 How can I purchase an unbranded sample?
As we don't have an MOQ on our order, a sample (Single unit) can be purchased online. This sample can be collected from our JHB or CPT office, or you can opt to have it couriered to you at a cost.
5.2 How do I purchase a branded sample
Branded samples can also be arranged, these will need to be paid for in full, and cannot be returned for a credit or refund.
Branded samples should be discussed with an account manager, and purchased offline.
5.3 What is your return policy with Samples?
Samples can be returned for credit or refund, provided they are returned within 7 working days, and are in there original packaging, undamaged. Refunds take 7 - 10 working days to reflect. The cost to receive and return samples Via courier is for your account.
For further assistance, please click here to mail us directly.