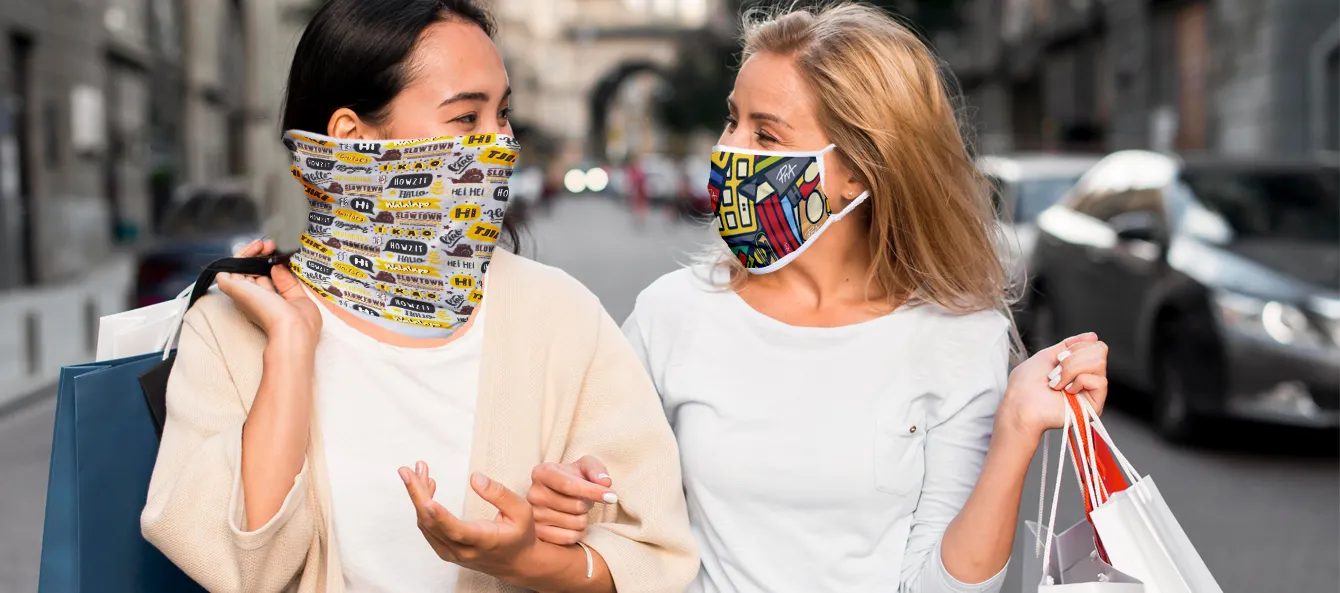 Face Masks & Multifunctional Headwear
Keep yourself and those around you safe with reusable face masks
It's vital to protect yourself, your family, and your team right now and we are proud to offer the essential gear you need during this challenging time. From buffs to triple-layered face masks, we have a wide range to choose from including numerous styles and designs, and custom-branding options too. Creating a barrier between you and possible pathogens is an added step towards being safer from infections like COVID-19. Reusable triple-layer face masks are the more environmentally friendly face mask option. Washing and sanitizing reusable masks after every use is a necessity in proper face mask care. Buying online face masks from Creative Brands, allows you the convenience of rotating masks without risking the need to reuse one before you can sanitize it.
New Loop Tie Design
Keep your team and clients protected with our innovative face masks. Instead of tight elastic around the ears or too many ties, this brand new design features a loop-tie system which makes these masks quick and easy to secure and ensures they fit snugly and comfortably.
New loop tie system for added comfort and protection.
Made in South Africa.
Order in bulk, let us take care of the branding and SAVE.
We all know that wearing an uncomfortable mask all day long is no fun. Upgrade your masks today and, when you order in bulk, you'll save!

Plus, we are ready to custom-brand your mask order with your logo or design. Got any questions? Please get in touch.
Product specifications:
Made in South Africa | 100% polyester, 180gsm fabric | Minimum order: 50 units | Three layer protection, complies with recommended government guidelines | Tightly woven bonded double layer with moisture management inner layer | Washable and reusable | No elastic, innovative loop system ties | Do not bleach | Use a cool iron – 120°C
Bulk Face Mask Supplier
Prevent your face mask from being mixed up with someone else's, by selecting from Creative Brand's online range of printed, patterned and plain surgical face masks for both men and women. Encourage children to wear face masks by buying animal print face masks. Creative Brands are online bulk suppliers of reusable face masks. Reusable triple layer face masks are a more environmentally friendly option towards providing an extra layer of protection between you and the corona virus.
For health and safety reasons if packaging has been opened and/or masks have been used they can not be returned or exchanged.

Package Dimensions: 25mm (H) x 10mm (L) x 10mm (W)