Top 5 Cooler Bags Perfectly Suited For Custom Branding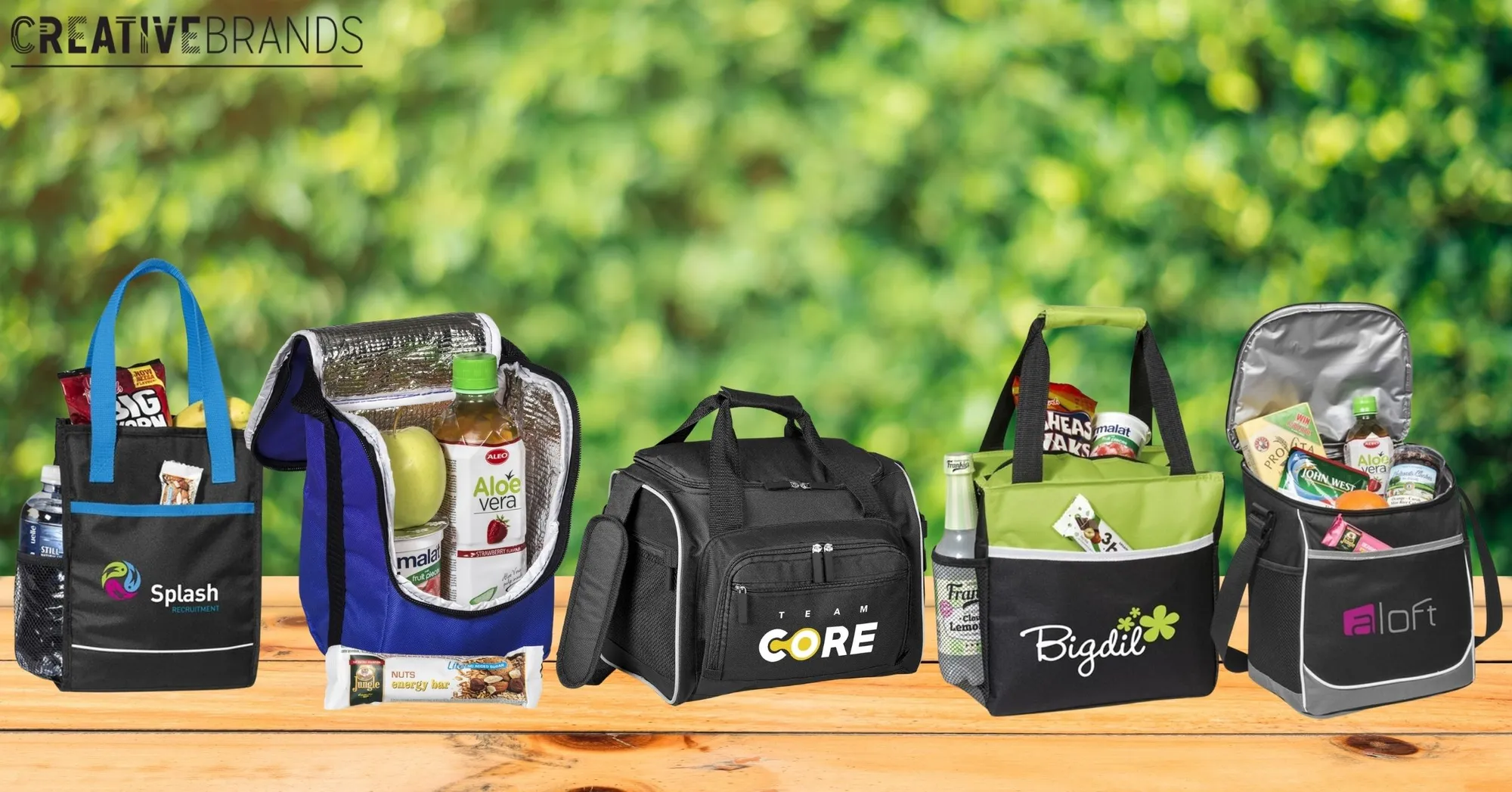 Keeping It Cool With Branded Cooler Bags
Are you looking for summer-inspired branded corporate gifts that are thoughtful and unique for your hard-working employees? Or perhaps promotional gifts for your customers that are useful and will be used time and time again? Then a Creative Brands' custom print promotional cooler bag is precisely what you are looking for this summer.

Choose from over 70 cooler bags, cooler lunch bags, wine coolers and heavy-duty cooler boxes in a variety of colours and styles. With various branding options available, we are sure your promotional gifts will be well received this year.
3 reasons why you should choose cooler bags and lunch cooler bags
1) Temperature control: The embedded insulation of a lunch bag cooler and cooler box helps keep your food at a stable temperature, unlike plastic lunch boxes or a paper lunch bag. Whether hot or cold, your food will be stored at a safe temperature preventing the contents from spoiling or becoming stale.
2) Eco Friendly: As the world makes a concerted effort to reduce our plastic use, cooler bags made of cotton or polyester that aren't single-use lessen the need for disposable plastic lunchtime containers. Not only are you providing your employees or customers with a branded cooling bag that increases your
brand awareness
, but you are also helping to save the planet, one cooler bag at a time.
3) Stylish and versatile: Due to the number of colours, styles, varieties and sizes of the cooler lunch bags and cooler boxes we have on offer, you can creatively express the promotion of your brands' image. Due to cool bags' versatility, your branded cooler bags will make a guest appearance wherever your employees go this summer. Whether they are hitting the beach to soak up the sun, going on a family picnic or travelling to a holiday celebration, your promotional bag coolers are sure to be a conversation starter, boosting brand awareness and potentially leading to future business for your company.
Our top 5 cooler bag picks for you
1) Lunchmate Lunch Cooler: An affordable and small
cooler bag
available in 4 vibrant colours, this polyester foil-lined cooler lunch bag, featuring a U-zippered compartment, will keep your employees' lunch fresh all day. Branding options include; screen print, sticker dome and zip puller personalisation.

2) Frosty Lunch Cooler Bag: Available in 6 trendy colours, this
lunch box cooler bag
with 600d Peva Lining; features a main zip compartment, side-mesh water bottle pocket, and double carry handles for your employees' convenience. Custom print options are digital transfer, screen print and heat transfer.

3) Iceberg Lunch Cooler: A medium-sized cooler bag that can hold 16 cans, available in 7 bright colours with ample surface area to promote your brand. This
bag cooler
features two zip compartments, a mesh side pocket and padded double carry handles. Branding options include digital transfer, screen print and heat transfer.

4) Sub Zero 20 Can Cooler: These large cooler bags can hold up to
20 cans
and are available in 3 professional colours. They feature a large zipper compartment, an adjustable shoulder strap, a front slip pocket and a mesh side pocket. With a large space to custom print your logo using either digital transfer, screen print or heat transfer.

5) Championship Cooler: Generously sized
cool bags
available in 3 elegant colours has a 23-litre capacity that can hold up to 24 cans. Featuring a large 600d PEVA lined main compartment, two front and two side pockets, padded shoulder protector on the shoulder strap, padded carry handles, and reflective piping, our championship cooler bags are sure to turn heads. Corporate branding options include; digital transfer and screen print.
Now let's get those drinks on ice, browse our full range of cooler bags and cooler boxes here. Get an instant online quote, upload your logo and sit back with a cold one while we take care of all of your promotional and corporate gifting needs.

Have any questions? We're here to help; follow our journey on
social media
or contact us via live chat, email or by giving us a
call
.
Get Your Branded Cooler Bags TODAY!