Your guide to branding corporate shirts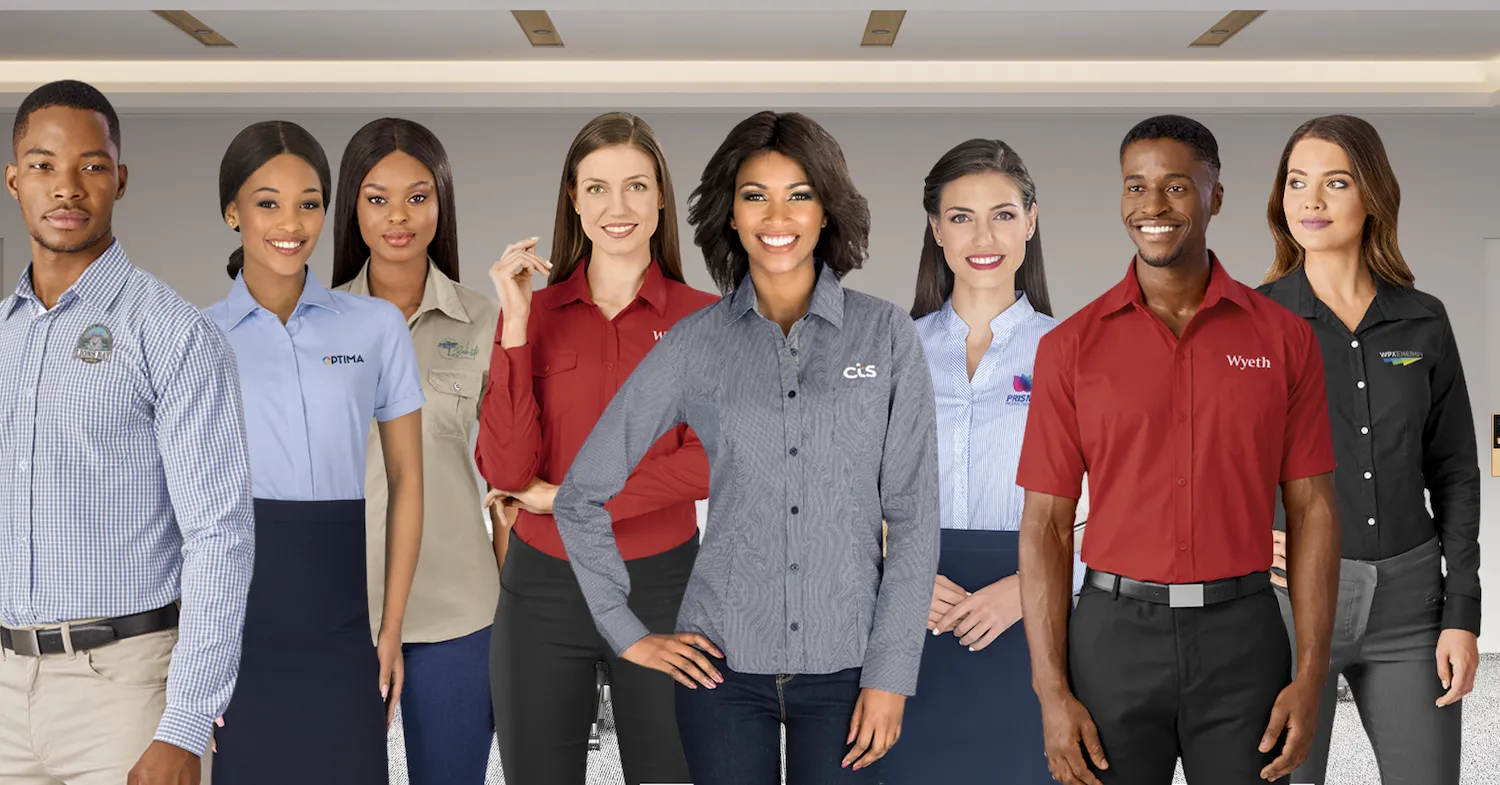 Your employees are a visual representation of your workplace, so make sure they're dressed for success by investing in custom-branded office workwear. Not only does quality workwear make your team look and feel good, it is also a key part of any marketing and
brand awareness
strategy. Keen to find out more? Here is our quick guide to choosing branded office shirts.
3 REASONS TO INVEST IN BRANDING CORPORATE SHIRTS
1. They'll help unite your team
Want your entire team to look smart and professional? The easiest way is to invest in the right
corporate workwear
. And don't worry, it's not a one-size-fits-all approach, our range includes every colour, cut and style of corporate shirt you can imagine so not every team member needs to wear the exact same shirt. It's possible to unite the team with workwear that fits each individual well and that they will enjoy wearing.
2. They'll give morale a boost
Sometimes it's the small gestures that mean the most. A branded shirt, a new hoodie or bodywarmer, all presented beautifully can speak volumes. You want your team to feel proud to wear any branded clothing item and, if they do, it's likely you'll see motivation levels on the rise. There's also the surprise factor – even though we are talking about workwear, if there's thought behind your choice and the branding has been done professionally, it will feel like a gift.
3. They'll give your workwear a refresh
Time flies and it's easy to forget when you last gave your workwear a refresh. You might find it has been years! If you work in hospitality or your team is client-facing, then a new set of corporate branded shirts could be just the refresh you need.
3 EASY STEPS TO ORDERING CUSTOM-BRANDED CORPORATE SHIRTS
1. Pick the colour, cut and style
We've done the searching for you, and our range features every colour, cut and style of
corporate shirt
you can imagine. Things to consider:
• Short or branded long sleeve shirts, or both?
• Formal or more casual promotional golf shirts or polo shirts?
• Plain, striped or patterned?
• Is there a particular colour you need? (Chat to us and we can help.)
• 100% cotton or something with a little stretch?
• Adjustable cuffs, smart collars?
• Wide and comfy or slim fit?
Remember our bodies are all different so each member of your team may prefer a different cut. We've done the searching for you and we promise you'll find the perfect corporate shirt.
2. Choose your branding style and position
Screen printing
, digital transfer or embroidery? How would you like us to brand your shirts? We can advise you on the best branding method (different shirts may have different options). What we can assure you is that all branding is carried out to the very highest of specifications.
You'll also be given a choice as to where you would like the branding (again, depending on the cut you choose), but it's likely you can choose to stamp your brand on the chest (left or right) or sleeve (left or right).
3. Get an Instant Quote online and upload your logo
We make the ordering process as easy as possible (it's just like online shopping). You'll get an Instant Quote (remember those days of waiting for quotes in your inbox?) and you can upload your logo straight away. If you need any assistance whatsoever, we are only a live chat,
email
or call away.
Keen to get started?
Head this way
to see our full range of collared shirts and shop online today.